Timber Garages
---
With our versatility in design, size and finish we can provide you with a Garage that will meet all your requirements. So you can have your Timber Garage for a multi-purpose capacity by partitioning off workspace or storage needs.
To compliment the robust construction we have devised a unique Security Pack option which is advisable if anything of value is to be stored in your garage.
We deliver and install all our buildings free of charge.
Design your own timber garage and customise the door, window and exterior options to your exact requirements using our online Timber Garage Planning tool. Click Create Your Building above to get started.
Building Sizes
---
Our Timber Garages are available in a range of sizes:
3.0 x 4.8m (10 x 16ft) to 4.8 x 6.0m (16 x 20ft)
As we make each building to order we can produce non-standard sizes and designs whenever required. Please contact us on 01760 444229 with any queries.
Building Designs
---
Decide how much space is available and then choose one of the designs that suits your requirements and that particular space. You can then choose how many doors you would like etc.
Single Garage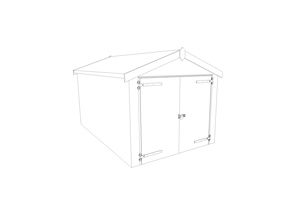 Double Garage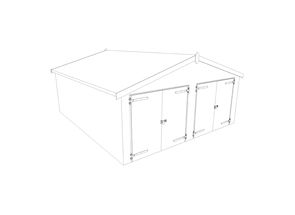 Transverse Double Garage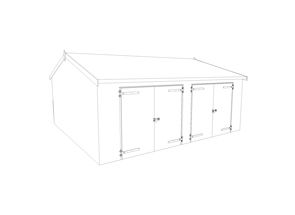 Door Options
---
Choose timber double opening doors or up and over doors for your garaging requirements. You can choose to have electric up and over doors.
To accommodate 2 double doors in your garage you will need to allow a minimum of a 5.4m frontage. You can also add a personal door to the side of the garage. Our timber doors are framed, ledged and braced, mortised and tenoned doors made in our workshops by our in-house joiners to ensure their quality. You can also choose to have windows within your doors.
Double Wooden Doors
A double wooden door set are framed, ledged, braced, mortised and tenoned and all made in-house by our joiners. The final size is 2134mm wide x 1900mm high. However a different sized door requirement is easily accommodated.
---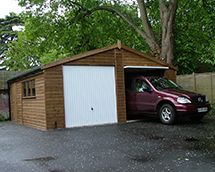 Up and Over Doors
An up and over door can add security or ease of use to your garage. As standard we can pick from brown or white size 2134mm x 1981mm. We can also accommodate a specified garage door and we can fit an electric operator
---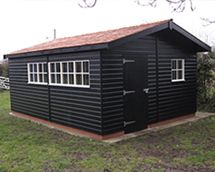 Additional Side Door
An additional side door for your convenience can be added to your building.
Single door aperture 850mm wide x 1800mm high.
Double door aperture 1700mm wide x 1800mm high.
Windows
---
We make our own windows within our Joinery Works to ensure quality. They are glazed with 4mm toughened safety glass as a standard safety feature. All garages come with 6 windows and you can choose where to have them, it is possible to add windows or not to have any. We can make the windows opening and we offer Georgian effect or Velux as alternative styles.
Our windows measure 610 x 610mm (2' x 2'). They are made from 75 x 50mm framing and finished with 4mm toughened safety glass.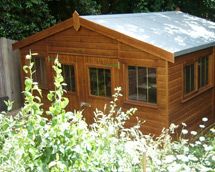 Additional Windows
You may wish to increase the number of windows in your building for added light.
---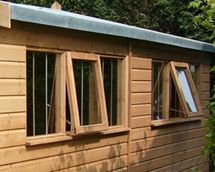 Opening Windows
Substitute any fixed window for an opening sash. Our opening sashes are top hung and are fitted with a brass casement stay.
---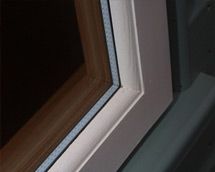 Double Glazed Windows
Have your windows double glazed for added insulation and reduced condensation.
---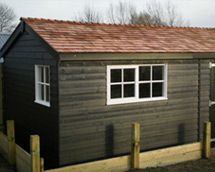 Georgian Windows
Make your windows Georgian for a more traditional look.
---
Velux
Add one or more Velux windows to your building to gain extra natural light. The roof window can be fitted in any part of the roof. It is only possible to have roof windows in apex style buildings with either Cedar Shingles or Slate Effect roof covering.
Cladding Options
---
Our timber cladding is machined from very high quality Redwood grown in North Sweden, close to the Arctic Circle. Because of the temperature, these slowly grown trees produce a much more dense and stable timber than others. The timber mill we partner and have very close links to is also FSC® certified like ourselves. We clad your building in shiplap but we also offer weatherboard cladding for a more rustic finish.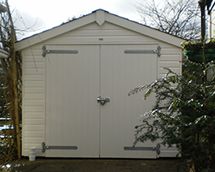 Shiplap - (ex 19 x 125mm)
We machine our shiplap in to particularly thick boards and because it's a slowly grown timber with an exceptionally close grain the additional benefits of our shiplap are its strength and durability. We plane our shiplap which gives a smooth surface finish which looks great painted. We machine a capillary groove into our shiplap to reduce the risk of water ingress; we also machine our shiplap with rounded edges so that paints and stains grab and adhere with maximum effectiveness and coverage.
---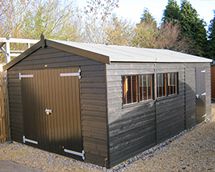 Weatherboard - (21>8 x 125mm)
Our weatherboard cladding is machined from the same high quality timber as the shiplap but is left sawn which gives a more rustic look to your building.
Flooring
---
Our Garages are set on to a concrete base and do not have flooring.
Roof Coverings
---
Our standard roofing cover is an extreme-wear, heavy duty, 35kg green mineralised felt. We also offer red and grey Slate-Effect roofing tiles, very stylish Cedar Shingles or the environmentally sound and attractive Sedum roof.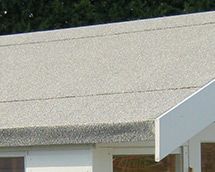 Heavy Duty Felt
Our extreme-wear, heavy duty, 35kg green mineralised felt is non-rip and is heated on to give further longevity.
---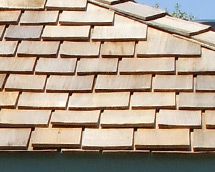 Cedar Shingles
We use only the finest quality Canadian Blue Label Cedar Shingles expertly tiled by our own skilled craftsmen to give a traditional finish which will 'silver' with age. They are expected to last 25-35 years and they make a charming feature of your garage.
---
Terracotta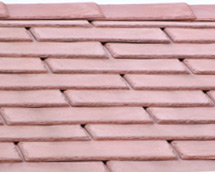 Slate Effect Tiles
These individually laid synthetic slates finally bring nature and technology together providing the ultimate protection against UV rays, wind, hail and fire.
Grey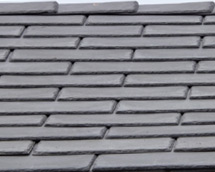 This roofing product carries a 50 year limited warranty. Opt for a more traditional grey or terracotta for a different look which looks great with the lighter paint shades.
---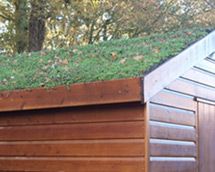 Sedum Roof
This layered, lightweight, vegetative roof improves the buildings thermal performance (cooler in the summer and warmer in the winter). A good natural sound insulator, significantly improves rainwater run-off and has added values in terms of promoting biodiversity and habitat as well as blending in with surroundings, particularly in built up areas. No need for weeding or deadheading.
Security Pack
---
Our Garages are exceptionally strong and robust. We have devised a unique Security Pack that will compliment this structure and be of benefit if any items of value are to be stored in your building.
Since the introduction of our Security Pack in 1994 theft from our customers garages has been dramatically reduced, virtually eradicated. We offer a 3 step Security Pack consisting of window bars mortised into the window frames, non-returnable screws are used on the hinges of the door and we have worked with a lock manufacturer to produce our unique 7 lever security lock.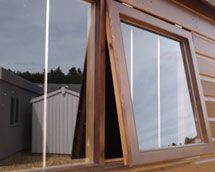 Window Bars
13mm (1/2 inch) stainless steel bars are mortised into the window frame during manufacture.
---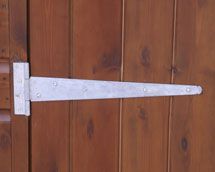 Security Screws
Non-returnable security screws on the hinges of the door make it impossible to unscrew hinges.
---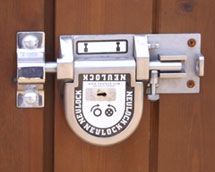 Security Lock
A heavy duty sliding bolt with fully encased 7 lever lock. It is anti-sawing, anti-picking, anti-cropping and anti-prising.
Paint Systems
---
Our Garages come treated with a light oak wood preservative as standard, which protects the timber from fungi and woodworm and gives the timber a natural looking sheen. We also offer three paint ranges to choose from: these are Valtti, Farrow & Ball and Sikkens, to give the best possible paint options for your building. Choose from the following optional paint systems.
Valtti
---
Our Valtti system is proven to be the best possible protection for exterior timber. Valtti is fully opaque and gives an exceptionally durable, extremely low maintenance, solid 4 coat finish. Our extensive colour range is inspired by nature and the soft neutral tones of traditional colonial buildings.
Ivory
Cream
Sandstone
Twine
Taupe
Pebble
Ash
Saltwater
Sundrenched
Verdigris
Sage
Lizard
Lichen
Slate
Black
*Screen colours differs on all screens, please request a sample to confirm your colour selection.
View More About Valtti Paint Range
Farrow & Ball
---
Crane Garden Buildings have collaborated with Farrow & Ball to offer you our buildings in a specially selected range of their exterior paint colours. Farrow & Ball exterior eggshell paint has a mid-sheen finish, suitable for use on our garden buildings.
After spending many years developing the paint, they have created a highly durable product that is flexible and highly resistant to flaking, peeling, and colour fade, as well as being both fungal and water resistant.
Wimborne White
Pointing
Old White
Light Gray
Mouse's Back
French Gray
Card Room Green
Green Smoke
Pigeon
Manor House Gray
Down Pipe
Off-Black
*Screen colours differs on all screens, please request a sample to confirm your colour selection.
View More About Farrow & Ball Paint Range
Sikkens
---
Crane Garden Buildings have worked closely with SIKKENSTM to create a coating system which provides long lasting protection for your building yet still allows the grain to be seen, enhancing the natural beauty of the timber. SIKKENSTM was shown to be the best translucent wood stain in trials carried out by TRADA (The Timber Research and Development Association).
Black
Walnut
Teak
Mahogany
Green
Rosewood
Grey
*Screen colours differs on all screens, please request a sample to confirm your colour selection.
View More About Sikkens Paint Range
Lining and Insulation
---
In order that you can use your building year-round, to increase your comfort and decrease any noise levels as well as finishing your building beautifully we can line and insulate it.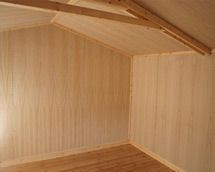 For Garages we firstly trap a breathable paper membrane between the studwork and the external cladding during manufacture which acts as a moisture trap.
---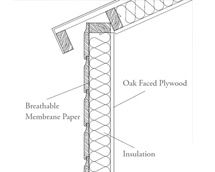 We insulate the cavity and then fix the oak faced 12mm (1/2 inch) plywood internally. The oak facing gives it a lovely, warm finish and it is robust enough to handle any shelving, hooks etc
Roof Overhang
---
A roof overhang can provide additional protection to the facade of your building as well as creating shade and rain coverage. The overhang can give a more cabin style design finish.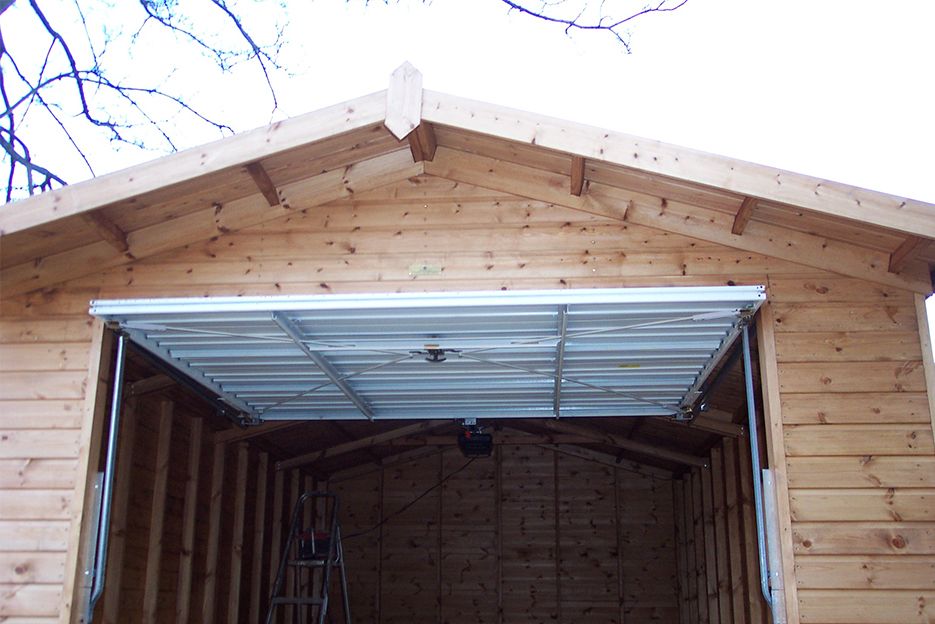 Electric Packs
---
For lighting and using any equipment in your building, you may wish to consider our electric pack. Professionally fitted by qualified electricians who take all the wiring to a consumer unit ready for you to connect to your electricity supply. Internal wiring will be fitted behind any internal lining. We can also supply your building with a heater.
| | |
| --- | --- |
| | 4 double 13 amp switched MK sockets |
| | A gang light switch |
| | A waterproof double external 13 amp socket - MK |
| | An 8 way consumer unit, main switch takes 2 slots – 63 amp MCB – 16 amp and 6 amp blanks |
| | Thermostatic 2kva wall heater (optional) |
| | A 3 spot chrome light fitting |
| | or a fluorescent single fitting |
Partitions
---
Make your building multi-functional by sectioning and separating the space.
Workbench
---
Add your chosen size workbench to your building for your DIY or hobby needs.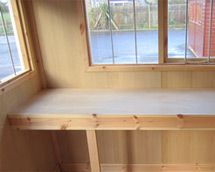 900mm high and 600mm wide framed workbench. For a solid finish we use oak-faced plywood.
Guttering
---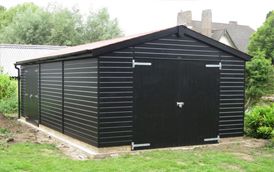 Guttering collects the water run-off from the roof and then deposits the water away from the building. This stops the bottom boards rotting prematurely, adding an even longer life to your building. Guttering is available in black or white.
We add the guttering and a downpipe along both eaves of the apex roof. The addition of guttering allows you to install a water butt should you want to.
Base
---
All our buildings require a level solid base of the correct size. We offer a base service.
The single most important part of installing a garden building is the base. Bases must be:
LEVEL
of the correct size
square i.e. have right angled corners
If the base is undertaken by someone who does not know what they are doing the base is likely to be uneven and therefore will create a lot of problems for your building in the short term and long term. The door will start to become unaligned and not shut properly and possibly create other movements within the building structure. The base supports the building and creates distance between your building and surface water.
We strongly recommend a solid concrete base (which will include steel reinforcement within the mix), no less than 100mm deep is ideal.
The base should always be a minimum of 50mm out of the ground to prevent surface water or puddles affecting your building i.e. rotting it.
The size of the base needs to be the metric size of your building. For example, if you order a 8 x 10 building, the metric size is 2.4 x 3.0 metres and this should be the size of the base. If the base is not built to the metric size then you will see the base around the building which is unsightly.
Bases for larger buildings and in particular garages need to be built to exact dimensions and drawings should be obtained from us before the base is laid.
A timber beam base can be necessary in rare cases where the building is on a steep slope or to be built near trees with tree preservation orders on them.
Always get your garden building base laid by a professional. We supply a base service if you should require it.
Size
(gable first)
Height
(eaves)
Cedar Shingles/
Slate Effect Tiles
Oak Ply Lining
and Insulation
Optional Paint
Systems
m
ft
2.0m
2.1m
Sikkens
Valtti
3.0 x 4.8

10 x 16
£

5,425

£5,960
£4,505
£3,445
£815
£2,180
3.0 x 5.4

10 x 18
£

5,840

£6,425
£5,075
£3,780
£825
£2,240
3.0 x 6.0

10 x 20
£

6,205

£6,855
£5,595
£4,125
£875
£2,350
3.0 x 6.6

10 x 22
£

6,675

£7,305
£6,145
£4,760
£890
£2,745
3.0 x 7.2

10 x 24
£

7,075

£7,765
£6,695
£5,275
£920
£2,840
3.0 x 7.8

10 x 26
£

7,475

£8,210
£7,250
£5,700
£985
£2,985
3.0 x 8.4

10 x 28
£

7,905

£8,680
£7,820
£6,230
£1,005
£3,105
3.0 x 9.0

10 x 30
£

8,315

£9,150
£8,370
£6,805
£1,065
£3,290
3.6 x 4.8

12 x 16
£

6,570

£7,225
£5,385
£3,915
£935
£2,635
3.6 x 5.4

12 x 18
£

7,035

£7,735
£6,075
£4,315
£980
£2,715
3.6 x 6.0

12 x 20
£

7,495

£8,260
£6,710
£4,705
£1,025
£2,780
3.6 x 6.6

12 x 22
£

7,965

£8,765
£7,355
£5,325
£1,055
£3,045
3.6 x 7.2

12 x 24
£

8,440

£9,285
£8,025
£5,765
£1,080
£3,170
3.6 x 7.8

12 x 26
£

8,895

£9,780
£8,685
£6,190
£1,110
£3,230
3.6 x 8.4

12 x 28
£

9,360

£10,305
£9,360
£6,575
£1,125
£3,345
4.2 x 4.8

14 x 16
£

8,230

£9,055
£6,270
£4,375
£980
£2,715
4.2 x 5.4

14 x 18
£

8,790

£9,645
£7,055
£4,805
£1,025
£2,780
4.2 x 6.0

14 x 20
£

9,335

£10,255
£7,835
£5,240
£1,045
£2,845
4.2 x 6.6

14 x 22
£

9,885

£10,865
£8,565
£5,960
£1,110
£3,230
4.2 x 7.2

14 x 24
£

10,430

£11,475
£9,365
£6,410
£1,125
£3,290
4.8 x 4.8

16 x 16
£

9,635

£10,600
£7,165
£4,855
£1,045
£2,845
4.8 x 5.4

16 x 18
£

10,220

£11,265
£8,075
£5,345
£1,060
£2,900
4.8 x 6.0

16 x 20
£

10,830

£11,935
£8,950
£5,800
£1,080
£3,015
5.4 x 4.8

18 x 16
£

11,365

£12,500
£8,075
£5,345
£1,070
£2,990
5.4 x 5.4

18 x 18
£

12,030

£13,235
£9,040
£5,830
£1,115
£3,075
6.0 x 4.8

20 x 16
£

12,760

£14,025
£8,940
£5,800
£1,130
£3,440
All of our garden buildings come with a range of optional extras, and to explore these fully, please use our pricebuilder tool by clicking on the banner below. The tool will take you through the options for this building; however, if you have any further requests, please don't hesitate to call us on 01760 444229, request a callback or contact us to discuss a bespoke made building with our helpful team.
Benches
All benches are 600mm wide x 900mm high. Oak face ply top with front fascia. These benches can only be ordered with one of our buildings.
| | |
| --- | --- |
| 1.8m Bench | £140 |
| 2.4m Bench | £160 |
| 3.0m Bench | £185 |
| 3.6m Bench | £195 |
| 4.2m Bench | £225 |
| 4.8m Bench | £250 |
| 5.4m Bench | £290 |
| 6.0m Bench | £330 |
| 6.6m Bench | £365 |
| 7.2m Bench | £395 |
| 7.8m Bench | £430 |
| 8.4m Bench | £465 |
| 9.0m Bench | £495 |
Specifications
---
We constantly strive to ensure all our materials and techniques are the best that we can source and provide. We lead the market in producing exceptional quality timber buildings. Couple this with our personal and bespoke service and you will be totally delighted with your building.
| | |
| --- | --- |
| Side Walls | ex 19 x 125mm shiplap cladding on 38 x 75mm planed framing, all using high grade Scandinavian Redwood. |
| Door | Double timber garage doors 1900mm high x 2134mm wide mortise and tenoned, framed ledged and braced. Each door hung with the use of 2 @ 450mm galvanized steel strap hinges and secured with a galvanised pad-bolt. If the up and over door option is chosen a 1980mm high x 2134mm wide steel white door is used. |
| Door Frame | ex 75 x 75mm planed |
| Windows | 610mm square set in a window frame fitted with 4mm toughened safety glass. All garages come with 6 windows but you do not have to have any windows. |
| Roof | ex 19 x 125mm tongue and groove match boarding, on ex 38 x 75mm planed framing covered with green mineralised 35 kg roofing felt. Trusses are used on all our garages. |
| Height | 2.0m to eave height or a more generous 2.1m to eaves. |
| Preservative | Your building comes fully treated internally and externally with a light oak preservative, protecting against fungi and woodworm. For an increased redecoration cycle and more colours see our paint systems option. |
Delivery and Installation
---
Our experienced and professional fitting team deliver and install all our buildings to anywhere on the UK mainland free of charge.
As our business is very much dependant on our reputation in providing an excellent product and service, our customer care is exceedingly important to us and you will find that we very much pride ourselves on this. From the design stage, right through to installation, providing the best possible service is our number one priority.
---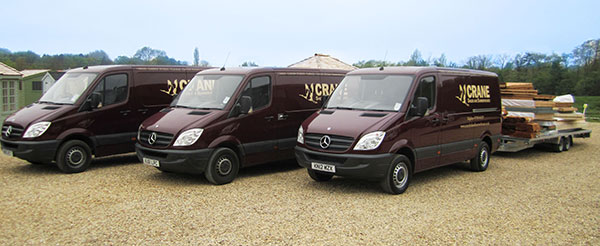 ---
Each building we make is designed and built to order, which means that we can make the building in such a way that it will fit through restricted access areas and be installed exactly where the building is required; however, if you have any concerns about the access to your garden, please contact us and we will be able to advise you.
Please also note that our installation team requires a flat, solid and level base to install your building on. If you have any questions about this at all, we will be more than happy to help if you call us on 01760 444229.