The Victoria Greenhouse Collection
---
Our timber framed greenhouses are an iconic, elegant Victorian design. They are generously proportioned with plenty of height and a steep roof pitch. They have built in automatic opening vents for perfect ventilation. They are constructed from a very high quality timber which is a harmonious material for the garden and we have a variety of colours to choose from to paint the timber. We deliver and install all our greenhouses so that the product is finished to the very highest of our expectations.
Building Sizes
---
Our Victoria Greenhouses are available in 4 sizes:
1.8 x 2.4 x 2.56m (6 x 8 x 8'4")
3.0 x 3.6 x 3.30m (10 x 12 x 10'9")
1.8 x 3.0 x 2.56m (6 x 10 x 8'4")
2.4 x 3.0 x 2.86m (8 x 10 x 9'3")
Construction
---
We have chosen timber for our greenhouses, a natural durable resource with qualities that man-made materials do not possess. Timber is environmentally friendly, it looks and feels good and it's a harmonious material for the garden.
The timber we use in the construction of our greenhouses is from very high quality Redwood grown in North Sweden, close to the Arctic Circle. Because of the temperature, these slowly grown trees produce a much more dense and stable timber than others. The timber mill we partner and have very close links to is also FSC® certified like ourselves.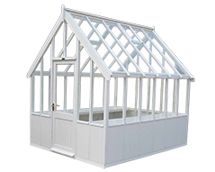 We machine our shiplap in to particularly thick boards and because it's a slowly grown timber with an exceptionally close grain the additional benefits of our shiplap are its strength and durability. Our Joiners plane the shiplap giving a smooth surface finish which looks great painted. We machine a capillary groove into our shiplap to reduce the risk of water ingress; and also give our shiplap rounded edges so that paints and stains grab and adhere with maximum effectiveness and coverage.
Floor
---
Your greenhouse does not come with a floor.
Paint System
---
Greenhouses are available in one of two paint colour ranges: Valtti or Farrow & Ball. Both of these paint ranges offer an opaque finish with a long re-decoration cycle in a wide range of natural colours that will fit perfectly into garden environments. Please see below for information on both paint ranges.
Valtti
---
Our Valtti system is proven to be the best possible protection for exterior timber. Valtti is fully opaque and gives an exceptionally durable, extremely low maintenance, solid 4 coat finish. Our extensive colour range is inspired by nature and the soft neutral tones of traditional colonial buildings.
Ivory
Cream
Sandstone
Twine
Taupe
Pebble
Ash
Saltwater
Sundrenched
Verdigris
Sage
Lizard
Lichen
Slate
Black
*Screen colours differs on all screens, please request a sample to confirm your colour selection.
View More About Valtti Paint Range
Farrow & Ball
---
Crane Garden Buildings have collaborated with Farrow & Ball to offer you our buildings in a specially selected range of their exterior paint colours. Farrow & Ball exterior eggshell paint has a mid-sheen finish, suitable for use on our garden buildings.
After spending many years developing the paint, they have created a highly durable product that is flexible and highly resistant to flaking, peeling, and colour fade, as well as being both fungal and water resistant.
Wimborne White
Pointing
Old White
Light Gray
Mouse's Back
French Gray
Card Room Green
Green Smoke
Pigeon
Manor House Gray
Down Pipe
Off-Black
*Screen colours differs on all screens, please request a sample to confirm your colour selection.
View More About Farrow & Ball Paint Range
Slatted Benches
---
You may wish to add a workbench to your greenhouse. Our slatted bench is made using oak faced plywood and finished using the same colour as the exterior.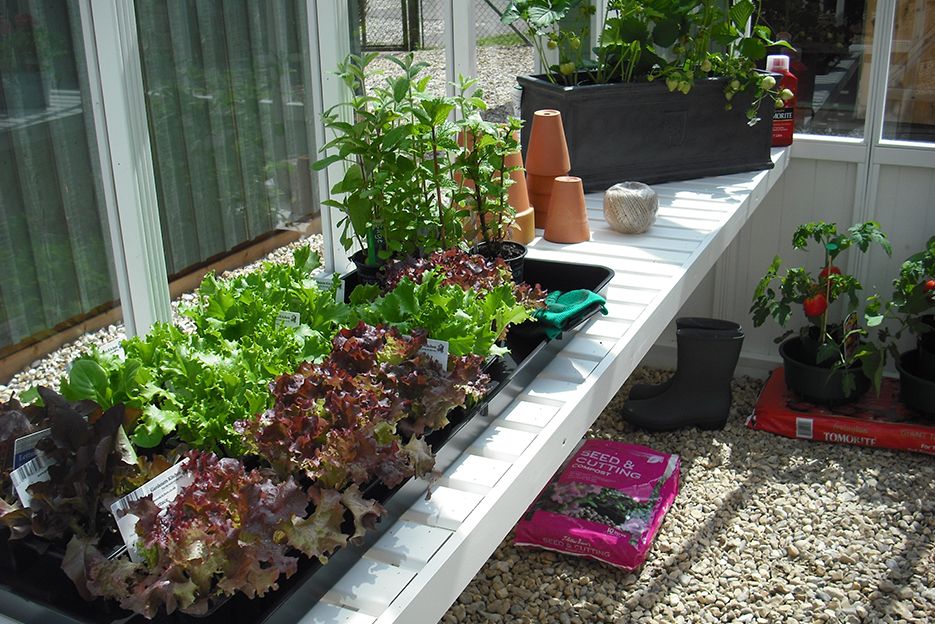 Base
---
All our buildings require a level solid base of the correct size. We offer a base service.
The single most important part of installing a garden building is the base. Bases must be:
LEVEL
of the correct size
square i.e. have right angled corners
If the base is undertaken by someone who does not know what they are doing the base is likely to be uneven and therefore will create a lot of problems for your building in the short term and long term. The door will start to become unaligned and not shut properly and possibly create other movements within the building structure. The base supports the building and creates distance between your building and surface water.
We strongly recommend a solid concrete base (which will include steel reinforcement within the mix), no less than 100mm deep is ideal.
The base should always be a minimum of 50mm out of the ground to prevent surface water or puddles affecting your building i.e. rotting it.
The size of the base needs to be the metric size of your building. For example, if you order a 8 x 10 building, the metric size is 2.4 x 3.0 metres and this should be the size of the base. If the base is not built to the metric size then you will see the base around the building which is unsightly.
Bases for larger buildings and in particular garages need to be built to exact dimensions and drawings should be obtained from us before the base is laid.
A timber beam base can be necessary in rare cases where the building is on a steep slope or to be built near trees with tree preservation orders on them.
Always get your garden building base laid by a professional. We supply a base service if you should require it.
Size
(gable first)
Price
Optional Slatted Bench
m
ft
1.8 x 2.4

6 x 8
£

5,870

£336
1.8 x 3.0

6 x 10
£

6,345

£384
2.4 x 3.0

8 x 10
£

7,245

£384
3.0 x 3.6

10 x 12
£

8,795

£432
All of our garden buildings come with a range of optional extras, and to explore these fully, please use our pricebuilder tool by clicking on the banner below. The tool will take you through the options for this building; however, if you have any further requests, please don't hesitate to call us on 01760 444229, request a callback or contact us to discuss a bespoke made building with our helpful team.
Specifications
---
We constantly strive to ensure all our materials and techniques are the best that we can source and provide. We lead the market in producing exceptional quality timber buildings. Couple this with our personal and bespoke service and you will be totally delighted with your building.
| | |
| --- | --- |
| Construction | Planed tongue and groove ex 19 x 100mm, corner posts ex 70mm, uprights ex 50mm; all using high grade Scandinavian Redwood. |
| Glazing | We glaze in 4mm toughened safety glass |
| Door | Half glazed, joinery made door. 1900 x 750mm (high x wide). Glazed using 4mm toughened safety glass. Fitted with a 5 lever, solid brass mortise lock. |
| Vents | 2 automatic opening vents are fitted into our greenhouse roof for perfect, essential ventilation |
| Floor | This buildings does not have a floor. |
| Paint | Painted using our Valtti system. |
Delivery and Installation
---
Our experienced and professional fitting team deliver and install all our buildings to anywhere on the UK mainland free of charge.
As our business is very much dependant on our reputation in providing an excellent product and service, our customer care is exceedingly important to us and you will find that we very much pride ourselves on this. From the design stage, right through to installation, providing the best possible service is our number one priority.
---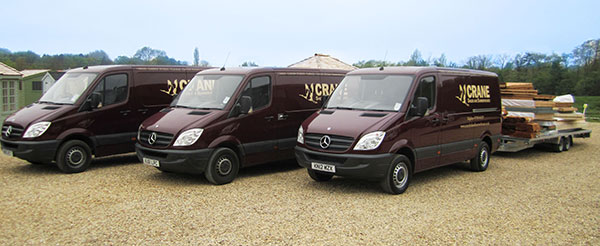 ---
Each building we make is designed and built to order, which means that we can make the building in such a way that it will fit through restricted access areas and be installed exactly where the building is required; however, if you have any concerns about the access to your garden, please contact us and we will be able to advise you.
Please also note that our installation team requires a flat, solid and level base to install your building on. If you have any questions about this at all, we will be more than happy to help if you call us on 01760 444229.